Fighting Metastasis with Revolutionary Therapeutics and Diagnostic Tests
TransCode Therapeutics has successfully completed animal studies with among the first therapeutics to successfully treat metastasis.
In 2018, cancer will be responsible for 9.6 million deaths globally and 90% are attributed to metastasis.
What is Metastasis?
Metastasis is when cancer spreads to a different part of the body from where it originated. Metastatic tumor cells escape into the body's circulation, surviving transit and eventually colonizing vital organs. Virtually all cancers, including cancers of the blood and the lymphatic system (leukemia, multiple myeloma and lymphoma), can form metastatic tumors.
About TransCode Therapeutics
TransCode Therapeutics, Inc. is a pre-clinical biopharmaceutical company that is focused on the discovery, development and commercialization of a pipeline of innovative microRNA-targeted therapeutics for treating metastatic cancer.
TransCode discovered that Metastatic tumor cells depend on the over-expression of microRNA-10b to survive and metastasize.
Our founders have developed a targeted, therapeutic treatment of metastatic cancer that led to complete regression and lifetime remission after just 4-6 weeks of treatments in animals.
This innovative, powerful and promising treatment strategy eradicates metastatic cells without causing damaging effects to other parts of the body that are commonly associated with available treatment options today. Radiation and chemotherapy interferes with cell division, causing detrimental consequences to mitotically active cells such as red blood cells, cells in the skin, hair, bone marrow and intestinal lining. Our therapeutic approach spares healthy organs and has essentially no systemic toxicity, as proven in our animal studies.
9 out of 10 cancer deaths are due to metastasis. We're working to reverse that ratio and offer a therapeutic option for patients that effectively treats their cancer.Dr. Anna Moore
TransCode Co-FounderLEADERSHIP TEAM
Investment Opportunity
We are raising up to $36 million in order to advance our therapeutic into clinical trials to achieve Proof of Concept (POC) in humans.
The goal is to clinically assess the use of TTX-MC138 in humans in an adaptive clinical trial design, and to successfully treat patients with Stage IV cancer.
Metastasis is responsible for the majority of cancer deaths today.
9 out of 10 cancer deaths annually are due to metastasis, not the primary tumors. The therapeutic strategy developed by TransCode Therapeutics is focused on the targeting and specific eradication of metastatic tumor cells, which has proven successful in animal studies.
We are raising capital to enter the clinical trials stage so we can bring more effective treatment options to patients.
Qualified and Accredited Investors Only
Company Vision
Based on successful animal studies, we intend to create a portfolio of targeted therapeutics with potential to treat human cancers through pharmacological inactivation of specific microRNAs.
Metastatic tumor cells depend on over-expression of microRNA-10b to survive and metastasize (spread)
Inhibiting microRNA-10b → death of metastatic tumor cells → treating metastasis
MicroRNA-10b over-expression validated in dozens of tumor types
Transcode has developed a portfolio of targeted therapeutics addressing multiple tumor types.
Patented Lead therapeutic TTX-MC138 achieved POC both In Vivo & In Vitro
Patented Biomarker test for non-invasive detection of microRNA activity
To-date raised: 0.55M Seed and $5.3M NIH grants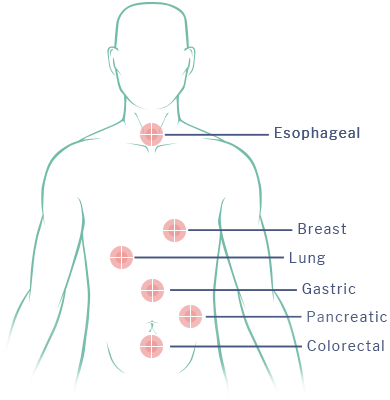 Focus on MicroRNA-10B
To date, more than 120 studies have been completed supporting the link between microRNA-10b and cancer encompassing at least 18 cancer types, including: breast, pancreatic, lung, colorectal, gastric, bladder, ovarian, hepatocellular cancer, and others.
TransCode Therapeutics has designed the first known cancer therapeutic, TTX-MC138, that efficiently inhibits microRNA-10b in metastatic tumor cells, resulting in the regression of established metastases.
Business Model
TransCode Therapeutics intends to develop and commercialize therapeutics that target specific microRNA molecules (starting with microRNA-10b) that are dysregulated in metastasis and primary tumors.
The company intends to commercialize a platform of "molecularly targeted therapies" using its proprietary delivery system as lifelong regression treatments of these diseases.

Develop & Commercialize a Platform of "Molecularly Targeted Therapies"Target Specific Molecules (micoRNAs) that are Dysregulated in MetastasisAchieve Lifelong Regression with no Recurrence in Patients with Metastasis
Investment Deck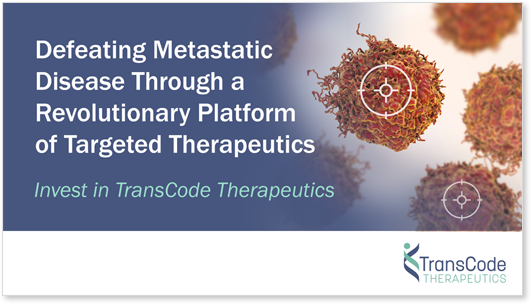 To learn more about investing in TransCode Therapeutics and our breakthrough therapeutics and diagnostics, please read our investment deck.
$36 million Series A Preferred
Qualified and Accredited Investors Only
Clinical Trials
Additional patents and filings
Expand Management Team
Contact
To find out more about investing
in TransCode, contact us.Michael Dudley
Chief Executive Officer
617.470.9734
michael.dudley@transcodetherapeutics.comTransCode Therapeutics
6 Liberty Square #2382
Boston, MA 02109 Name:Email:Phone: (optional)Zip Code:Inquiry:
Private Placement Memorandum
Please view the Private Placement Memorandum here:

© TransCode Therapeutics, Inc. 2018.​ All Rights Reserved.