Bob McCooey, a senior VP at the New York-based exchange, said he looked forward to welcoming more Chinese IPOs in a post on WeChat
Bannon had told the Post he would dedicate his time to shutting Chinese companies out of US capital markets
Published: 8:00pm, 23 May, 2019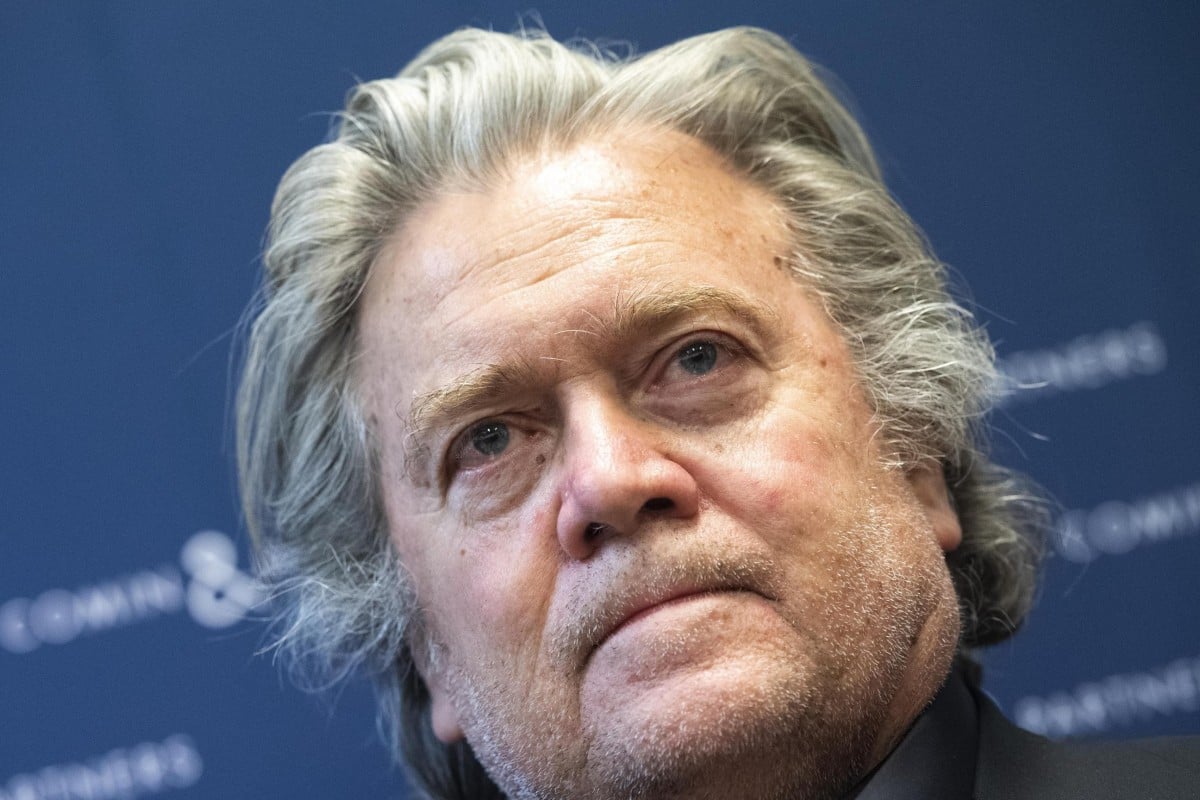 Outspoken former Trump adviser Steve Bannon advocates an 'all-encompassing war' against China. Photo: EPA
A senior vice-president at New York's Nasdaq stock exchange has dismissed comments by Steve Bannon calling for Chinese companies to be excluded from US markets, describing the former White House adviser as "discredited".
In a post on Chinese messaging service WeChat on Thursday, Bob McCooey said: "Like many of you, I have seen the comments by President Trump's FORMER and discredited adviser Steve Bannon. I do not believe these words to have any truth.
"With 22 IPOs from China in 2018 and 15 already this year, we look forward to welcoming many Chinese companies to Nasdaq and supporting them as members of out family of global leaders."
There are currently 92 Chinese companies trading on the Nasdaq, including search engine Baidu, China's largest online travel agency Ctrip.com, and online retail giant JD.com.
A total of 34 Chinese firms launched initial public offerings in the US last year, raising US$8.6 billion.
On Friday China's self-declared Starbucks challenger, Luckin Coffee, raised around US$561 million in its IPO. With a market value of US$4.2 billion, it marked the biggest US float by a Chinese firm this year. The stock surged by more than 50 per cent on its first trading day, before falling this week.
Others include e-commerce platform Pinduoduo and video-sharing websites BiliBili and iQiyi, which listed in 2018.
McCooey, who is also chairman of Nasdaq Asia-Pacific, was referring to comments made by former White House chief strategist Bannon in a phone interview with the South China Morning Post on Saturday.
Bannon, an advocate of an "all-encompassing war" against China, said he would dedicate his time to shutting Chinese companies out of US capital markets.
"The next move we make is to cut off all the IPOs, unwind all the pension funds and insurance companies in the US that provide capital to the Chinese Communist Party," he said.
"We'll see a big move on Wall Street to restrict access to capital markets to Chinese companies until [they agree to] this fundamental reform."
Bannon left the White House in August 2017 to return as executive chairman of far-right Breitbart News.
In March this year, he revived the cold war Committee on the Present Danger (CPD), which was first established in the 1950s to counter the influence of communism in the US.
His recent remarks came after Trump blacklisted Chinese telecoms giant Huawei, essentially cutting its ability to do business with suppliers in the US and escalating the year-long trade war. Trump's decision was based on concerns Huawei is threatening national security by aiding Beijing with espionage.
The move could cripple the company, a global leader in the development of 5G mobile technology.
Huawei has denied the allegations.
Driving Huawei out of the US and Europe is "10 times more important than walking away from the trade deal," Bannon told the Post. "It is a major national security threat, not just to the US but to the rest of the world. We are going to shut it down."This article appeared in the South China Morning Post print edition as: Nasdaq shuns call to exclude China firms